June 2016 – New Lumiplan contract with the deployment of its HEURES scheduling solution for the management of BRT lines in Ghana's capital
The government organization GAPTE – Greater Accra Passenger Transport Executive, which deals with urban transport activities in the metropolitan area of Accra, called on Kapsch, an integrator of intelligent transport systems, to set up an information system within their new bus network. In order to design a high-performance network, Kapsch relies on Lumiplan's Heurès scheduling solution.
GAPTE wishes to set up a Bus Rapid Transit network – high service level buses (HQPT) operating in dedicated lanes. A first line will be opened with 85 buses in circulation. The long-term objective is to set up 4 main lines and more than 250 buses that will serve all of Accra, Ghana's most populous city.
Lumiplan's Heurès scheduling solution will enable the metropolis of Accra to acquire an optimized transport network thanks to the graphic creation of lines and routes, the entry and analysis of journey times. The teams were trained on the Heurès tool in the spring of 2016.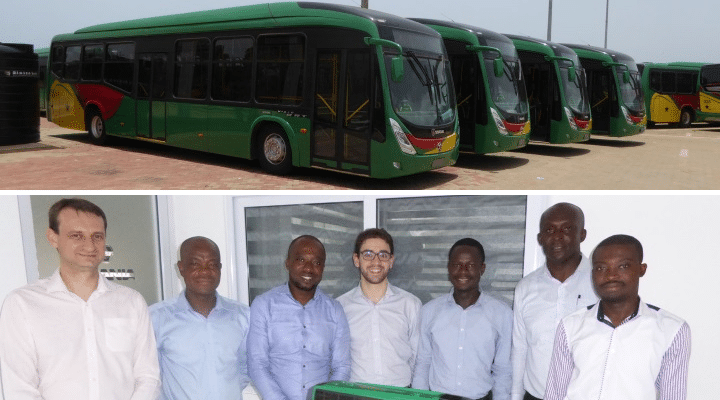 Implementing an efficient transport offer: the Heurès solution
In a high-growth city, described as an economic magnet in the region, the creation of an efficient transport offer is essential to facilitate traffic flow and ensure the movement of populations: "the minibuses called tro-tros, which are the most frequently used means of transport, are crowded. Infrastructure and equipment are not adequate. The implementation of the BRT network will provide a real response to the mobility needs of Accra's inhabitants. " explains Olivier Epailly, Head of the Heurès business.
Lumiplan allows Ghana to acquire an adapted tool to improve the quality of service of its transport network while optimizing its resources.
Heurès is the ideal solution to meet the needs of countries with major urban mobility challenges and strong budgetary constraints.