To improve reception in your council offices or civic centre and provide dynamic communication.
Interactive indoor terminals
Communicate with your townspeople simply and effectively Lumiplan interactive indoor terminals offer your townspeople a new reception experience.
Lumiplan interactive indoor terminals offer your townspeople a new reception experience. You can install them as an easy-to-use, accessible information point in the lobby of your civic centre.
Attractive and more enjoyable to use than classic screens, these terminals let you display unlimited amounts of information inside your public areas. They provide citizens with a wide variety of information and guidance, for example directing them to the relevant department, or telling them where to find the official documents required for a given administrative request. Waiting time management is another function that can be assumed by this information fixture.
Interactivity with citizens at a touch

The touchscreen interfaces on these terminals ensure information is always available at the users' fingertips. They can browse quickly through huge quantities of documents, seek and find all kinds of information freely (land registers, minutes of council meetings, etc.) or simply peruse the latest local news. The LCD screen offers a high quality colour display to provide a more pleasant user experience when reading town information.
Available in a range of formats.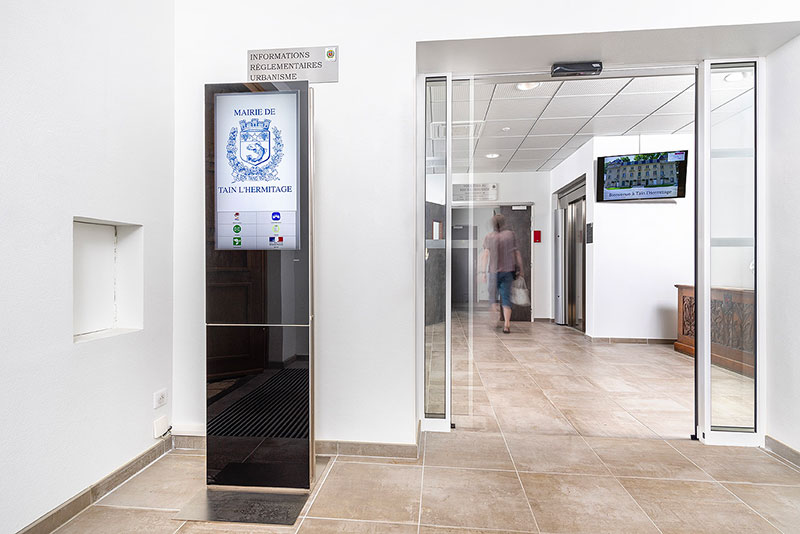 TFT wall screens
Take advantage of the TFT screen's full HD for information broadcasting
These wall screens open numerous possibilities. Some examples of what you can do :
Tell the townspeople important local news
Inform ratepayers about town matters (major projects, debates, events, etc.)
Guide and direct visitors inside your civic centre for easier orientation.
Visitors can then enjoy a more pleasant wait in the designated area.
Design and performance
The elegance of the screen and its built-in loudspeakers allow it to blend in with the decoration, making it easy to integrate in the lobby of your civic centre or its waiting areas and passages. As well as elegance, the full HD screen ensures a high quality, legible display with stunning colours.
All-in-one solution
The TFT Viseo pack is a ready-to-use solution comprising a TFT screen (32", 42" or 55"), wiring, wall fitting, message management software, and user training. The information can be broadcast instantly.