[PRESS RELEASE]
InnovaFonds and Bpifrance are acquiring a stake in Lumiplan, the French and European leader in dynamic information solutions for local authorities and their contractors.
This move marks the first investment of InnovaFonds' "Partenaire Managers I" flex equity fund, where they hold a minority stake alongside the existing majority management. With this partnership, Lumiplan will be able to strengthen their leadership position on the French and European markets, pursue their international growth and fully leverage their platforms, LumiData, and LumiPlay.
Lumiplan offers a wide range of solutions for passenger, community and tourist information, helping to increase the attractiveness of cities and regions.
The company also actively supports local authorities in their digital and ecological transitions through comprehensive, high-value-added offerings. Their innovative solutions, driven by the LumiPlay and LumiData platforms, play a pivotal role in shaping behaviours, promoting public transport and active mobility, disseminating energy-saving best practices, and issuing alerts in the event of risks to the public.
In France alone, Lumiplan's information solutions benefit 20 million people each day.
The company, founded in 1972 with headquarters in Saint-Herblain, France, employs 270 people and earns revenue of €55 million, with approximately 30% from exports through its six foreign subsidiaries and presence in over 20 countries.
The "Partenaire Managers I" flex equity fund is InnovaFonds' third investment vertical, focusing on mezzanine financing, accompanied by a minority stake in equities. This fund plays a vital role in supporting French SMEs, particularly in emerging industries.
Henry Gaillard, CEO of Lumiplan, states: "We are honoured by the confidence shown in us by InnovaFonds and Bpifrance, which confirms the strength of our vision, our strategy and our business model." The expertise, experience and connections of our new investors will facilitate our growth. We support local authorities and their contractors and suppliers who aim to improve the user experience in their areas. Our partner clients can rely on top-tier digital information media and high-value-added data through our LumiData and LumiPlay platforms."
Quentin Ducouret, Associate Director of InnovaFonds, says: "We are delighted to support Lumiplan's management in their efforts to accelerate their growth with the first transaction of our new 'Partenaire Managers I' flex equity fund. Lumiplan has successfully positioned itself as a market leader, with the critical size, reliability and resilience to thrive in fast-growing markets."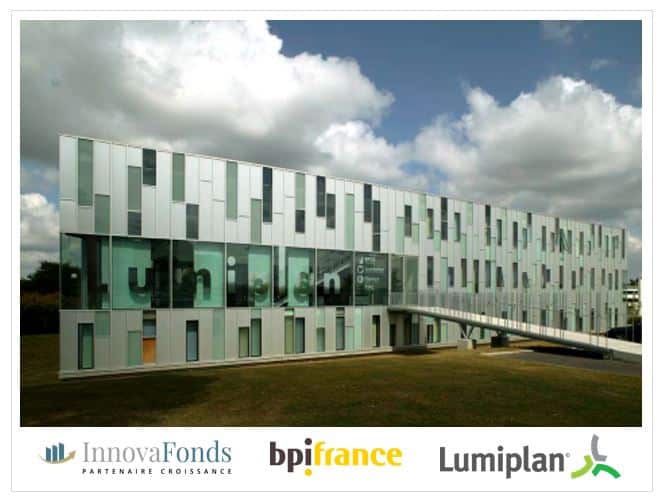 About Lumiplan
Lumiplan, which celebrated its 50th anniversary in 2022, operates in the fields of mobility, local community information and tourist information.
In the mobility sector, Lumiplan is the leader in both Europe and France. Their hardware solutions are utilized by over 80% of the 50 largest French urban public transport networks and more than 300 transport networks in total.
On the software side, Lumiplan offers solutions for mobility data governance (LumiData), school transport management (School-iTi), and transportation planning and scheduling management (Heurès).
In the field of local community information, Lumiplan is the leader in France, providing digital information panels, interactive kiosks and mobile applications to nearly 3,000 cities and metropolitan areas, benefiting over 10 million users.
For tourist information, Lumiplan is the leader in France and the USA, offering real-time information solutions for ski resorts. Lumiplan serves 90% of the 100 largest French and American ski resorts through their hardware and software solutions, including mobile applications. They also cater to the needs of cyclists and promote local economic development in the bicycle tourism sector.
Lumiplan's core strategy revolves around two software platforms: LumiData and LumiPlay.
LumiData empowers cities to manage and share their data effectively, addressing data governance and sovereignty concerns.
LumiPlay seamlessly manages and automatically updates content and accurate data aggregated by LumiData for all digital media in the region, enhancing the user experience through real-time information.
Key Figures and Locations:
Lumiplan generates revenue of 55 million euros and employs 270 people. The company has offices in Saint-Herblain, Domène, Albertville, Paris, Dax, Rennes, and Tours. Additionally, Lumiplan operates through six subsidiaries in Spain, Italy, USA, Morocco, Singapore, and India, and conducts business in more than 20 countries.
www.lumiplan.com
About InnovaFonds
InnovaFonds is an independent asset management company, managing over 350 million euros. The company focuses on majority, minority, and "flex" operations, making firm commitments of up to 30 million euros. As an active shareholder and reliable partner, InnovaFonds collaborates closely with management teams to foster financial and industrial partnerships. Their commitment to value creation through growth, supporting human capital development and the energy transition, shapes their strategy as a responsible and committed investor with extensive experience and connections to support both organic growth and acquisitions.
www.innovafonds.fr
About Bpifrance
Bpifrance finances businesses – at every stage of their development – through loans, guarantees and equity investments. Bpifrance supports businesses in their innovation and international projects and provides a wide range of export insurance products. Other services offered to entrepreneurs include consulting, training, networking and an acceleration programme for startups, SMEs and mid-sized companies.
Thanks to Bpifrance and its 50 regional offices, entrepreneurs have a single local contact to help them through the challenges they face.
For more information: www.bpifrance.fr – https://presse.bpifrance.fr/ – Follow us on Twitter: @Bpifrance – @BpifrancePresse