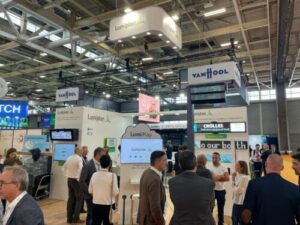 The key players in mobility and public transport met in Paris from June 7 to 9 at the European Mobility Expo. Lumiplan was there to present its solutions and latest innovations in passenger information.
For Lumiplan, this exhibition, which brings together more than 250 exhibitors and welcomes more than 10,000 visitors, is an opportunity to meet with organizing authorities, operators and local communities invested in sustainable mobility. No. 1 in Southern Europe with more than 200 transport networks equipped with its solutions, Lumiplan is the leader in France with 80% of the 50 largest urban networks relying on its solid experience in the field of real-time passenger information. With its destination signs, multimedia screens, information terminals at stops and in stations, and graphic design software, Lumiplan presented its wide range of hardware and software solutions, as well as some new products…
Lumiplan celebrates its 50th anniversary
This exhibition was the occasion to celebrate Lumiplan's 50 years. This celebration, looking to the future, was a privileged moment to talk about sustainable mobility, passenger information but also citizen information. For Benjamin Bertelle, Digital Customer Manager for Transdev's Western regions, "The strength of the Lumiplan solution is that it can go beyond the world of transport, integrate into the smart city and potentially broadcast job advertisements, announcements on fairs, and announcements on the ecology that local authorities may want to promote.
Innovation at the heart of the company's strategy
With its LumiPlay platform, the company intends to provide new, ever more effective and practical solutions for transport network managers and Mobility Organizing Authorities. LumiPlay is able to aggregate data from SAE by adding local data on the economy, sports, culture, tourism, etc. LumiPlay can then be used to distribute information not only on buses or at stops, but also throughout the city. Benjamin Bertelle emphasizes that "we know the importance of public transportation in the lives of citizens, and you can be sure that either through our on-board screens, or bus stops, we will reach a very, very large audience and in a very effective way!
Visitors were able to appreciate the rich media destination sign, the ScreeneX communicating window and the 100% autonomous LCD and e-paper information terminals.
In the field of sustainable mobility, Lumiplan presented to the professionals of the mobility sector a 100% autonomous and eco-designed information totem designed to inform cyclists and cyclotourists using bike roads of the surrounding points of interest: "D'KooVert" is a solution adapted to municipalities and inter-municipalities wishing to promote their businesses or to make discover their historical and cultural heritage.
With 50 years of experience in the field of passenger information, Lumiplan continues to develop innovative solutions for its customers. As Damien Wattez, Deputy Director of Transurbain – Evreux Portes de Normandie, points out, "even if it's a customer-supplier relationship, it's more a question of partnership, of win-win.
Translated with www.DeepL.com/Translator (free version)